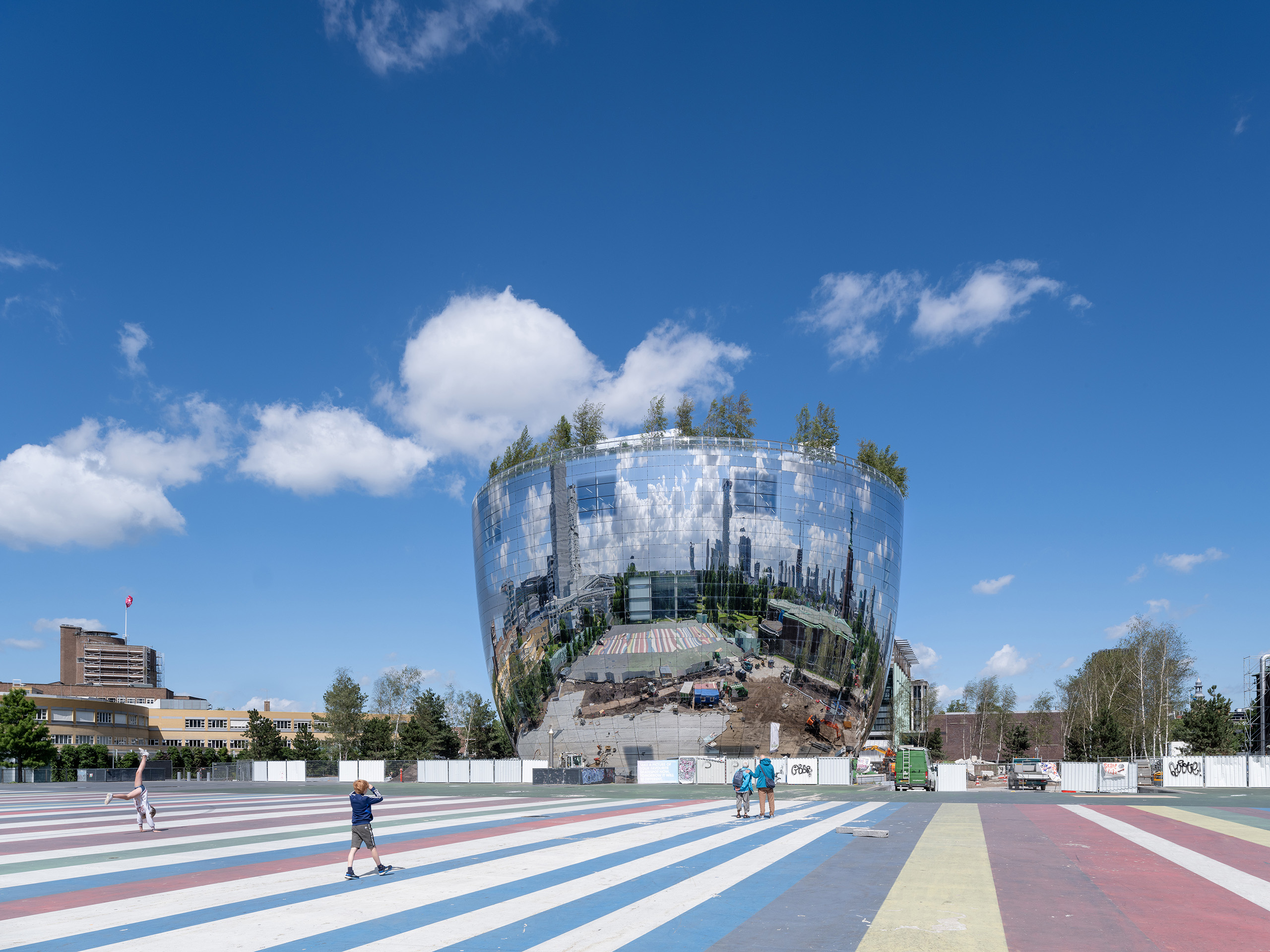 cultural beacons
Cultural buildings shape our cities. From museums to theatres to clubs, these spaces are what make urban life worth living. We make cultural buildings as remarkable, diverse, and exciting as the activities they contain. Cultural buildings are customised for different cultural needs and different institutions; they are beacons for culture that intrigue, delight, and engage both visitors and passers-by. We create cultural buildings that speak to people of all backgrounds not only to enrich those people's lives, but also to support and actively improve the culture inside.
With the Depot Boijmans Van Beuningen, we created a world-first, the first fully accessible art depot that will allow the public to see behind the scenes of the museum and take a look at its full collection of 151,000 artworks. The building is not only ground-breaking in terms of its use, as its bowl-like shape, mirrored façade, and rooftop park make it a truly good neighbour, celebrating the city of Rotterdam and its site in the Museumpark. During the daytime it's a machine for the museum; at night, the building becomes a sculptural work of art in its own right, reflecting a light-based Pipilotti Rist artwork custom-made to enhance the unique qualities of the depot.
The Ku.Be House of Culture and Movement in Copenhagen blends culture, health, leisure, and education in a wondrous series of colourful volumes. With its climbing frames and slides, this unique neighbourhood amenity is a favourite of local children and their parents, giving them a place to play while they learn and create – in other words, it's serious fun. Nearby in Roskilde, the Ragnarock museum is an embodiment of rock 'n' roll. With a red carpet and an outlandish gold-studded cantilever that exudes star-level swagger, it invites everyone inside to its guitar case-inspired red velvet interior.
In Eindhoven, our design of the new club building of De Effenaar does not turn its back on the rough-and-ready charms of its predecessor, but incorporates them into a form that acknowledges the institutionalised nature of the modern music industry. The central performance space, surrounded by the building's other programmatic elements, along with the external staircases and heavy-duty internal details, make for a building that is both exciting to visit and tailor-made for its function.
The moment we are invited to partner with an institution to create their new home, we fully immerse ourselves in the raison d'etre of the building. We analyse how to take full advantage of the enormous opportunity that a new building offers: to improve the mission of the institution, to make it work even better, to move towards sustainability and inclusivity, and to create a spatial translation of the very essence of the institution. Since 1993 we have created cultural buildings that instil maximum happiness in their users and the people that maintain and cherish the public, cultural ideal.