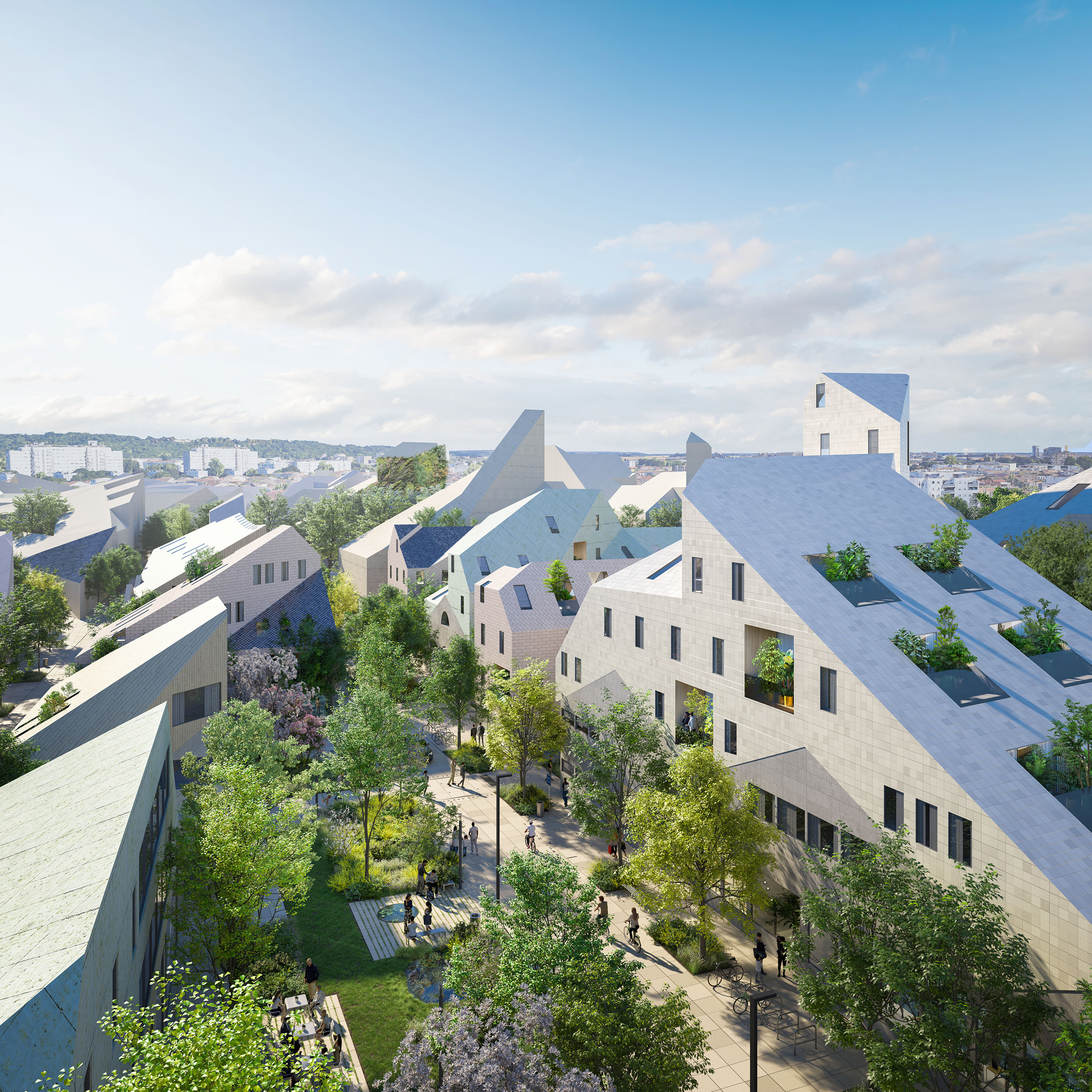 Bastide Niel
MVRDV's masterplan proposal to transform 35ha of former barracks and railyards in the centre of Bordeaux is an unprecedented opportunity to contribute to European urbanism. The design answers the question of how to create a vibrant neighbourhood that is in the tradition of the European city, but at the same time an update of it: historic, mixed and intimate, light, green, and dense.
Location

City

Bordeaux

Year

2010

Surface

355000 m²

Client

SAS Bastide Niel

Status

On site

Programs

Themes
The site, near the Garonne River, lies within walking distance of the UNESCO-listed historic centre of Bordeaux and was previously occupied by warehouses, rail embankments, and redundant barracks. Through careful retention and renovation of the existing buildings, along with controlled new development, a district will be created that integrates a wide variety of functions including housing along with a variety of public and cultural facilities.
The masterplan follows the layout established by the rail tracks and the barracks. It maintains and densifies all historic structures, railways, and platforms, interpreting the site's history and making it a starting point for the area's transformation. Using the layout established by these artefacts, the plan establishes a network of narrow streets between 6 and 10 metres wide. These are designed using a "shared space" approach to create a safe traffic system with pedestrians, cyclists, and public transport on an equal footing to cars. Most streets are one-way, serviced from the riverside or from the opposite avenue. This road, alley and lane network results in an intimate city, with 144 city blocks in the masterplan – resulting in an atmosphere comparable to a historic city centre.
The public spaces of the masterplan incorporate as much greenery as possible, with a huge variety of plant species, as well as water features to keep the surroundings cool in hot weather. Streets and public squares are designed to be porous, allowing them to absorb rainwater and floods – an important consideration due to the masterplan's location in the Garonne river floodplain.
Similarly, buildings in Bastide Niel must be designed with their impact upon the environment in mind. The masterplan stipulates that buildings in the neighbourhood should be light colours, reflecting sunlight and reducing the urban heat island effect; they should integrate solar panels and greenery into their roofs and loggias; and they should use wood construction whenever possible, minimising the carbon emissions of construction. The 144 plots will host buildings from a diversity of architectural practices, mixing the work of local, national, and international designers. MVRDV coordinates with the architects of each project to ensure the cohesive realisation of all aspects of the masterplan.
Bastide Niel's signature appearance is also derived from environmental factors. The shapes of buildings in the plan are determined through strictly applied rules for both daylight and direct sunlight, allowing each building to receive daylight at ground level and a minimum of 2 hours of sun. These "sun cuts", combined with the 15-metre depth of the buildings that enables natural ventilation, result in sloped roofs that evoke a contemporary reimagining of the traditional European cityscape.
With the realization of MVRDV's masterplan, Bastide Niel will become a lively extension to the city centre with a mixed programme of 3,400 homes; 27,500m2 of retail; 25,000m2 of offices; 13,500m2 of small premises for such uses as clinics, workshops, and studios; and 54,000m2 of public facilities such as a university building, the municipal archives, a cultural building, a community centre, schools, day care centres, and sport facilities.
© all rights reserved