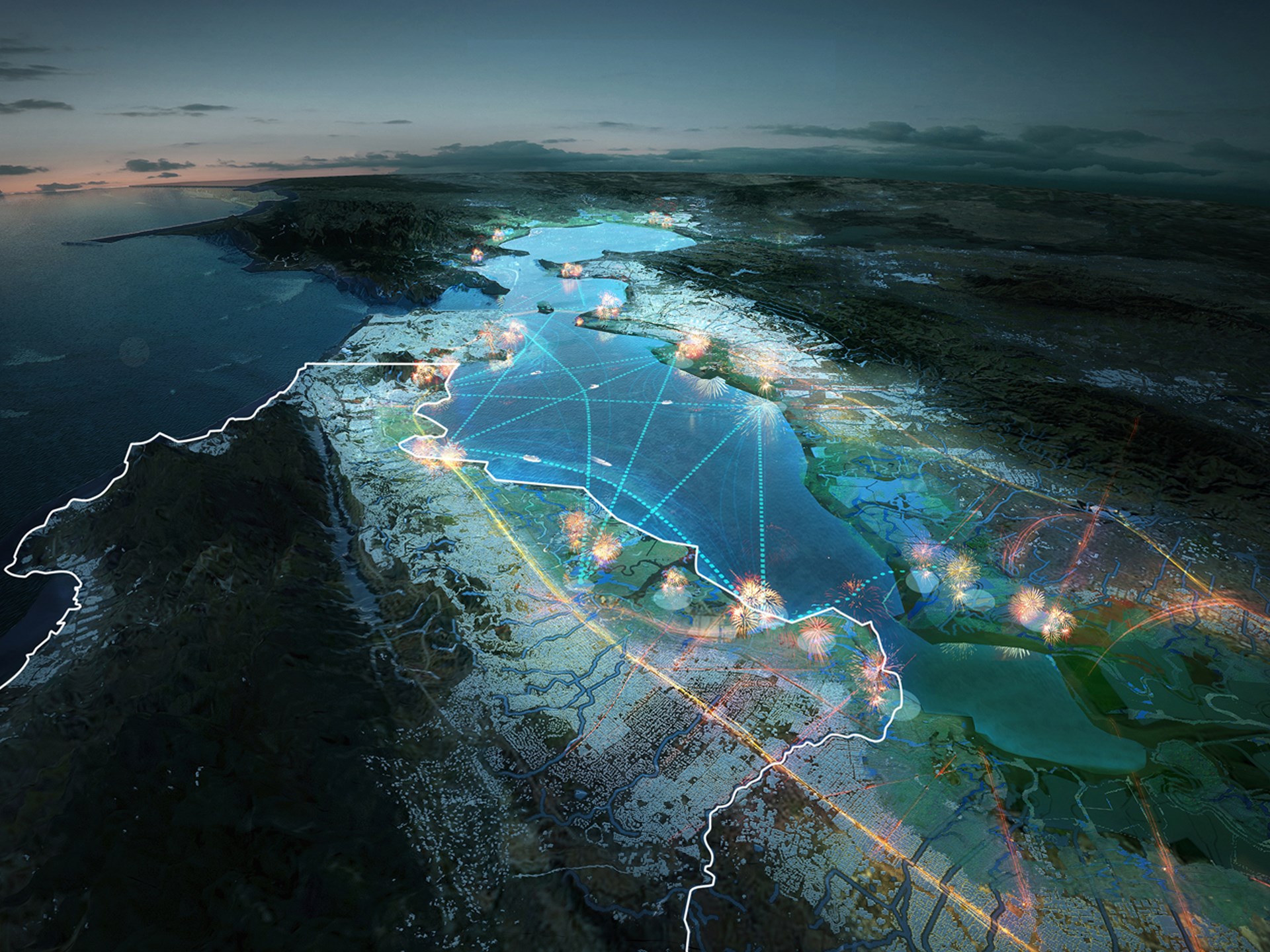 Resilient by Design
MVRDV are part of the HASSELL+ team, an international design team including HASSELL, Deltares, Goudappel, Lotus Water, Hatch, Civic Edge, Idyllist and Page & Turnbull that has re-imagined a series of San Francisco Bay Area waterfront communities as vibrant, fundamentally public places for everyday use – but also vital for environmental and emergency needs. The team understands water, designing for water, living with water and the immense social potential that waterfront places offer communities when they are connected to them.
Country

City

South San Francisco

Year

2018

Client

Resilient by Design

Status

In progress

Programs

Themes
Revitalised public spaces that collect and connect people and water

For the collaborative research phase of the competition, HASSELL+ re-imagined a series of waterfront communities around the San Francisco Bay Area as vibrant, fundamentally public places primed for everyday use – as well as vital hubs for disaster response and environmental innovation. This proposal adds the appeal to "engage" with communities at risk to the current common practice to "protect", "adapt", and ultimately "retreat" from areas endangered by the effects of climate change. This in order to develop integral design solutions that can provide both, physical resiliency for those communities and a social model which engages in decision-making and builds social resiliency.

The design team's approach was inspired by the way the region's communities used open spaces during both the 1906 San Francisco earthquake – one of the deadliest in US history – and the recent, devastating Northern California wildfires. HASSELL+ envisioned a network of green spaces, creeks and revived high streets that would serve as points of collection, connection and water management from the ridgeline to the shoreline and across the bay via an enhanced ferry network. Revitalized 'connectors' – streets and creeks – and new 'collectors' – responsive, adaptable open spaces – would form a network of places for everyday gathering, big events and disaster assembly. Together, they could ultimately make the Bay Area more physically and socially resilient. During the collaborative research phase, this 'collect and connect' concept has been tested by HASSELL+ on exemplary sites around the Bay; outlining possible spatial frameworks and a toolkit for community resiliency and activation. In the second phase, 'collect and connect' will be applied and elaborated by Hassell on chosen sites in South San Francisco.

Designing better waterfront cities – a range of international perspectives

Since the challenge launched last May, it's received an outpouring of support from elected officials across all nine counties in the Bay Area. San Mateo County Board of Supervisors, President Dave Pine sees it as an opportunity to draw on the technical expertise of design teams, think creatively, and ultimately, create lasting change in the county.



© all rights reserved
Architect
Principal in charge
Design team
Strategy & Development
Copyright: MVRDV
Partners