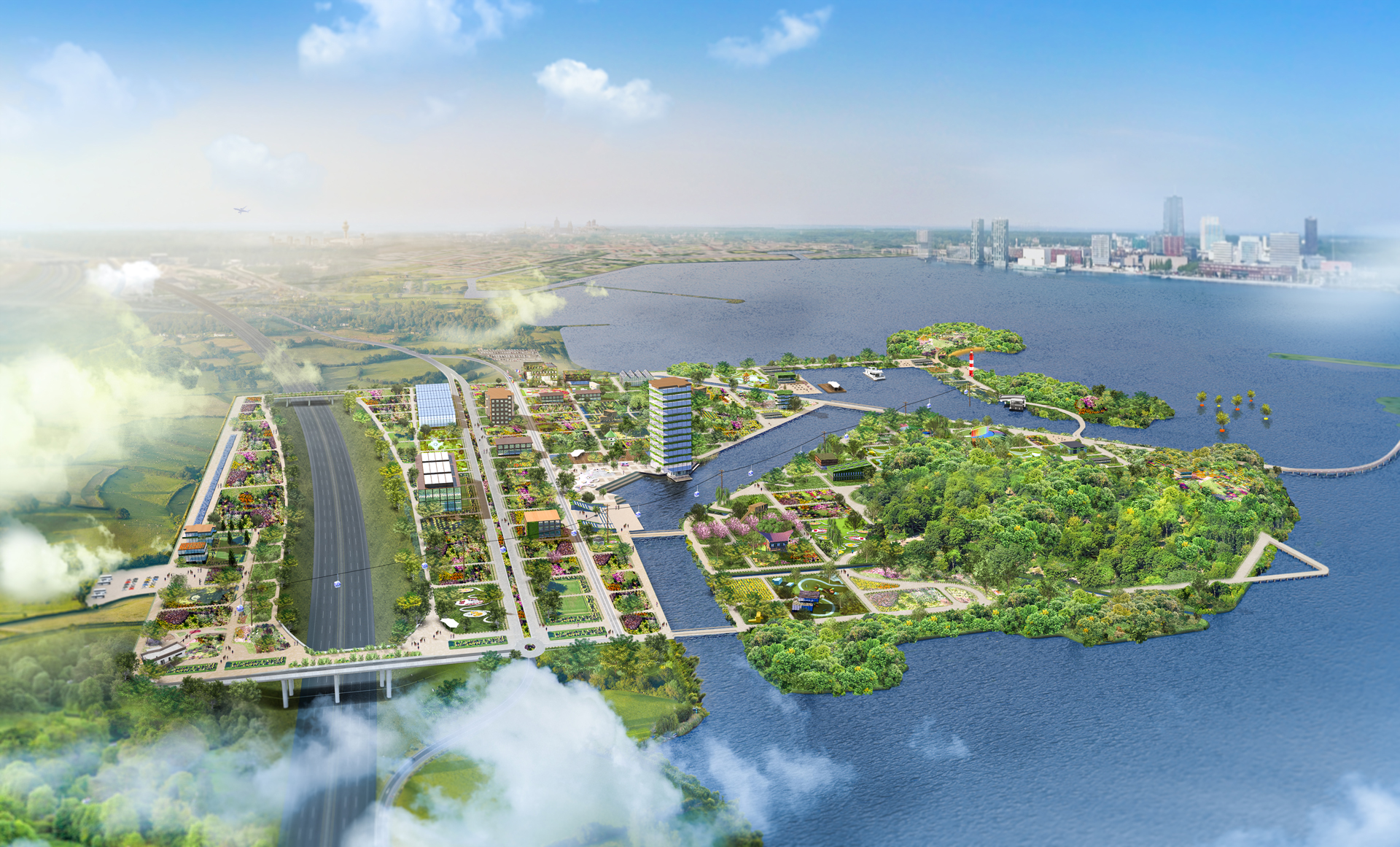 Almere Floriade 2022
Selected to design the site of Floriade 2022, the world's largest horticultural expo, in Almere, MVRDV imagines the area as a green extension to the city centre, a lasting Cité Idéal. From jasmine flower hotels and orchard houses to a restaurant in a rose garden and lily pond swimming pool, Floriade 2022 will be the most urban and most green Floriade to date. The question remains can Floriade 2022 be ecologically self-sufficient and stand as a model for symbiotic urbanism?
Location

City

Almere

Year

2022

Surface

600000 m²

Client

Municipality of Almere, NL

Status

On site

Themes
Amsterdam's metropolitan area faces a population explosion over the next twenty years. Within this expansion, the Municipality of Almere will realise the largest portion of new developments, including 60.000 new homes.

Almere has the ambition of increasing its size whilst simultaneously improving the quality of life for its inhabitants – a factor that often declines as cities grow. MVRDV has proposed an urban plan for Almere 2030 and a DIY urbanism strategy for Almere Oosterwold and now proposes a third vision: the extension of Almere city centre, opposite the existing centre, transforming the lake into a central feature of the city that would connect the disparate neighbourhoods of the Dutch new town. The proposal creates a world class, energy efficient extension to the city center, and through its flexibility invites the Floriade organiser NTR to develop the plan further with the city.
Floriade Almere takes as its starting point the simple pleasure of plants and trees in our everyday lives and the city around us. The idea translates into an urban landscape that integrates the qualities of different species into the built environment, creating a rich variety of architectural and urban experiences that embrace, rather than eschew, the natural world. Can the symbiosis of city and landscape be a solution to growing resource consumption? Enriching our everyday lives with plants, while creating a world-class, energy- and food-generating city center is the challenge that Floriade 2022 will tackle over the coming years.
The plan is a flexible framework for development that welcomes the expertise of Floriade organizer NTR into the project. The area has the potential to become many things, not least a hub for biological research and industry, which holds pride of place, both culturally and economically, in the Netherlands.
Almere Floriade is a grid of gardens on a 60ha square shaped peninsula. Each block will be devoted to different plants, a plant library organised alphabetically. Each block is devoted to a wide variety of programs, from pavilions to homes, offices and a university organised as a stacked botanical garden, a vertical eco-system in which each classroom is defined by a unique microclimate. Visitors will be able to stay in a jasmine hotel, swim in a lily pond and dine in a rose garden.
The city will offer homes in orchards, offices with planted interiors and bamboo parks. The Expo and new city centre will be a place that produces food and energy, a green, urban district demonstrating how plants, indeed nature itself, enriches every aspect of our daily lives.
© all rights reserved