The Lyon Part-Dieu shopping centre houses a mixture of commercial, leisure and newly created public space. The design restructures each side of the mall, opening up the building to the street and adding a vast public roof garden. Project leader Marion Rabec will speak about Lyon Part-Dieu project from an architectural point of view at the Façades 2 Build on October 19.
Marion Rabec manages French projects by coordinating planning and communications with clients, contractors, engineers and other collaborators. Driven by the ambition to create strong design teams, she implements clear structures, communications and planning to give space for teams to work and produce high quality designs. She holds an Advanced technician's certificate (HND) in Wood & Housing Constructive Systems and graduated as HMONP Architect from the National School of Architecture of Normandy in France. She worked for Christian de Portzamparc and AIA, then joined MVRDV in 2019 as Project Leader in charge of the rehabilitation / extension of the Westfield La Part-Dieu shopping center in Lyon, to be delivered in early 2022.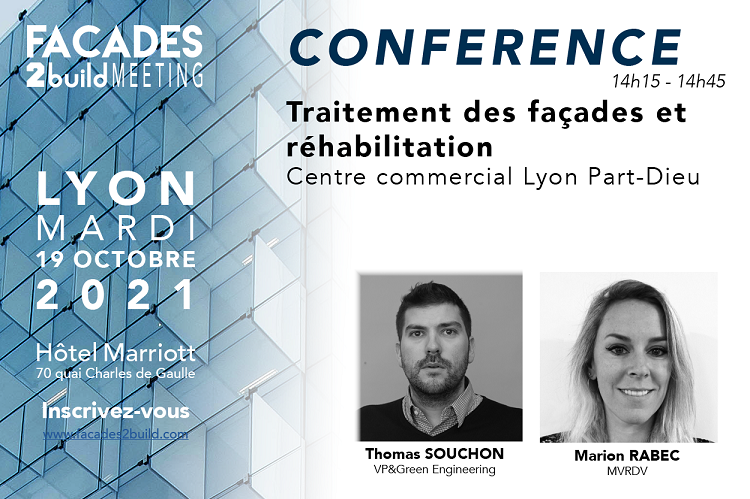 This event is entirely dedicated to the topic of façades. Innovations in materials, products and systems to meet the technical, aesthetic, ecological and well-being challenges in buildings. During this event, Marion Rabec will speak about the façade treatment and technical rehabilitation and extension for the Lyon Part-Dieu shopping center with Thomas Souchon, deputy director of VP & Green Engineering.
Date and time: Ocotober 19, 2021. 14:15 – 14:45 (CET).
Location: Hotel Marriot - Cité Internationale, 70 Quai Charles de Gaulle, 69463 Lyon.
More information about the event and how to register here.